---

---
SHAWN
HUSS
VOCALS
RHYTHM GUITAR


Full name: Shawn Paul Huss
Date of Birth: 9-10-1974
Place of Birth: Mercy Hospital, Altoona Pa.
Favorite Musicians: Chili Peppers, Jethro Tull, Alice In Chains, Neil Young, Tom Petty, Suicidal Tendencies. Kind of a wide variety.
Favorite Hobbies: Spending time with my wife and my baby girl, Playing guitar,
singing,writing songs.
Over the years I have learned that music is not just an art form, its a way of sharing your emotion and experiences with countless numbers of people. I hope to someday accomplish that.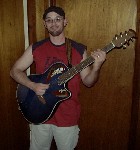 ---
ROD
SKELLEY
LEAD
GUITAR

(ROD'S FIRST SUBMISSION OF A BIO)
Born in East Berlin into 1975 in a German-Eskimo family. My father worked in a shoe factory and my mom was a truck driver. I was instrumental in bringing down the Berlin Wall and contributing to the fall of the Eastern Bloc. My dream was to be a foreign language teacher and I studied Australian in school. I turned to music after seeing a Firehouse concert in 1997. I enjoy mountain climbing, paper mache and knitting.
(ROD'S ACTUAL BIO)
Rod "The Professor" Skelley
Born in Altoona, PA in 1975
Favorite Musicians by genre

Classical: Henryk Gorecki
Jazz: Miles Davis
Country: Johnny Cash
Classic Rock: Pink Floyd
80's: The Cure
Alternative: Smashing Pumpkins
Industrial: NIN
New Millenium: Infused

Wasted my time studying music in college (graduate of Lock Haven University - Valedictorian & Honors; started Masters at University of Akron)
Played in lots of starter bands including Occision (high school), Fallen Timber (college), Metal Sniff (I don't get high, honest), Fairview Street Jazz Combo (Jazz is groovy)
Got hitched to a blond, singer who was probably bi-polar and definitely a @#$#@. Wasted a couple years there getting in debt and ignoring all my friends.
Divorced and drove 18-wheeler. Hooked up with the love of my life - Bonnie. Realized I wasn't much of a truck driver.
Became infused.
Music is not created - it already exists. Music wants to escape and live.
We are the slaves that make that life possible.
Freedom
---
BILL
FISCHER
BASS GUITAR

Here is some Bio shit for you!
William M Fischer
01\23\74
Born in altoona hospital
Favorite food. Fuckin Lasagna!!!! from OIP!!!!
High School. Bishop Guilfoyle
and now I live for the music and fuck everything else.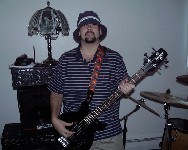 ---
ED
LONGO
DRUMS
PERCUSSION

A.K.A. tusk36 <click>
Born in Altoona,
Raised on
Big Band, Motown
The Beatles and The Stones.
EARLY MUSICAL INTEREST
Steve Miller Band
Robin Trower
Fleetwood Mac
Lynyrd Skynyrd
ANYTHING BLUES
MOSTLY INFLUENCED BY
Ed Naper<click>
Keith Moon
Mick Fleetwood
Neil Pert
Ringo Starr
CURRENT FAVORITE BANDS
MONSTER MAGNET
BROTHER CANE
PAW
ANYTHING BLUES
INFUSED <click>
When not playing, working or hanging out with my
gorgeous wife Shelly <click>
14 yr old son Eddie <click>
10 yr old daughter Stella <click>
2 yr old daughter Elise <click>
I am trying to save the world from certain doom !! <click>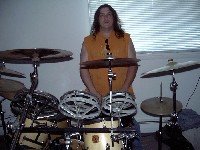 ---
Not so long ago......
In a dimension far far away.....

Shawn and Rod have played and written together for years.
A previous band, UPSTREAM, was just not holding together.
Shawn and Rod find themselves looking for
a bass player and drummer.
Shawn and Ed are friends and work together,
Shawn taunts Ed to get drums and start playing again.
Ed resists, Ed and Bill are friends, Ed goes to Bill's house
where he meets a friend of Bill's, ICE.
ICE has drums, Ed plays for the first time in 6 years.
Ed starts to look for a drum set.
Ed calls an ad he sees in the paper.
Ed buys the drums from the ad.
As the seller is helping Ed haul the drums to Ed's house,
It is revealed the seller was the drummer that played
with Shawn and Rod in UPSTREAM.
WHAT A C O I N K Y D I N K !!!
THE DRUMS REMAIN THE SAME !!!
Ed finds out Bill's band with ICE has disbanded.
Ed intros Bill to Shawn and Rod.
SHAWN, ROD, BILL and ED
ARE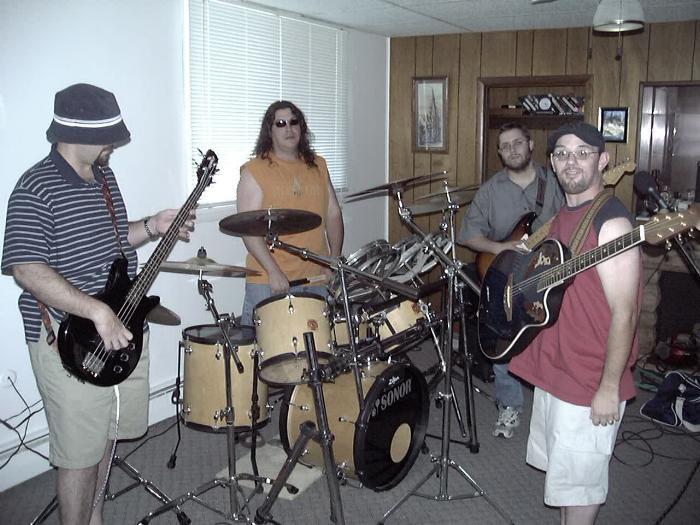 ---
MAIN PAGE